Product usability is a critical factor in the success of any medical device, both commercially and clinically. Still, not everyone realizes how much goes into making a product more intuitive.
We recently had the chance to sit down with Jose Bohorquez, president of Bold Type, to discuss our outlooks for the medical device industry as a whole and how companies are adjusting to meet the economic climate. In addition, we also leaned in to the topic of designing products for patients, physicians, and product engineers. The role of each audience drastically changes the expectations of their devices and applications.
User Friendly
The conversation specifically started off with ideas from the book User Friendly: How the Hidden Rules of Design Are Changing the Way We Live, Work, and Play by Cliff Kuang with Robert Fabricant.

Here's a relevant quote that helps to frame the conversation:
"One reason we find apps easy to understand even if we've never used them before is that navigability and consistency are so ingrained into the patterns of app design today. Menus all largely behave the same way; so do swipes and taps."
My question, then, to both Jose Bohorquez and Justin Bantuelle (CTO of Health Connective), was "How does the mindset of user friendliness play out with the the different audiences you build for?"
The following answers have been edited for clarity.
Patients and Consumers
Jose Bohorquez: I've always found it fascinating that the people who are hardest to please are patients, even more than doctors. A doctor is more willing to put up with more complexity than a consumer. We always keep in mind that a patient is ultimately has the mindset of a consumer.
When your social media applications and your application to order lunch are very intuitive and easy to use, you then expect your application that manages your insulin pump or your electrocardiogram system at home or whatever else it is to also be very intuitive and easy to use.
Usability as an FDA Requirement and as a Brand Experience
Jose Bohorquez: In fact, the FDA recognizes and has really put a lot more emphasis on this in the last few years that it's actually a safety issue. If a particular feature in a product that's important requires somebody to pull out a manual to figure out how to do something, then you need to go back to the drawing board. It's not just that you're failing from a usability point of view. It's that you're failing from a safety point of view potentially.
Just like how you do cybersecurity analyses for a product, you also have to do usability analyses for a product. You're doing it from the mindset of risk.
Now above and beyond just mitigating risks around usability, you want to give your users a good user experience. This is especially necessary in order to build a good brand as a medical device company.
There's a famous Stanford professor named B.J. Fogg who's written a lot about this. When you make something more difficult for somebody, they're not gonna do it as often. If you're trying to get somebody to use your product because it results in better health for them I think it's tempting to assume that people will definitely use it. The product will be beneficial to their health. Well, how many people don't take their medication even though it's beneficial to their health? The easier it is to do, the more likely a person's to do it. You want to develop your products in a way that you pay a lot of attention to usability.
Not Just a "User Interface"
Justin Bantuelle: I couldn't agree more.
I'm really glad that user experience has become such a focal point for application development. For a long time, there wasn't even really a term for user experience. It was all bundled into this idea of user interface. Teams would build static designs and then hand those over and have developers make it pixel perfect in an application. That process loses a lot of what it actually feels like to use an app. It can look really nice and be extraordinarily frustrating to actually try to use.
Companies understand the value of that type of thinking in a general way, but it's still a relatively new concept.
Being Willing to Dig into the Data
Justin Bantuelle: When we when we develop for engineers, we find that they tend to care a lot less about the way the design looks. Of course, the goals is still to make sure that everything looks good and feels good to use.
In this case, it's okay if there is a ton of data on the first screen of an application. Engineers are used to looking at a ton of data. They're used to waiting through it. These individuals know the data deeply, so it's not as hard for them to have what could be considered an overwhelming amount of information coming at them on a dashboard. Engineers need the data quickly.
Physicians' Needs
Justin Bantuelle: We often deal with post-procedural data, so we don't have the same kind of pain point around safety issues. Still, the data matters. If a doctor isn't reviewing their data because it's difficult to look at, how much are they using that information to improve their procedures? There's a lot they can learn from the available information. If the data is hard for them to parse, it's hard for them to learn anything. Then we failed, and their outcomes might not be as good because we failed to give them meaningful information to learn how to do better with this device.
These tools are designed to be easy to use, but you can always do better. Your first procedure isn't going to go as smoothly as your hundredth procedure. I think that's true about anybody doing anything.
We make it easier for users to learn by giving them a positive feedback loop. We want to give them a reason to come back to review their case. The platform should make it easier for them to do that.
Ultimately, these applications are all related to health outcomes for patients, and you just can't mess around with that.
Related Reading
Michael spends a great deal of time with the healthcare industry both professionally and personally, which gives him the perspective of what stakeholders on either side of the care equation need.
He began coding in 2008 and subsequently shifted his attention entirely to online marketing. Michael completed his MBA in 2018, focusing on the intersection of healthcare and marketing.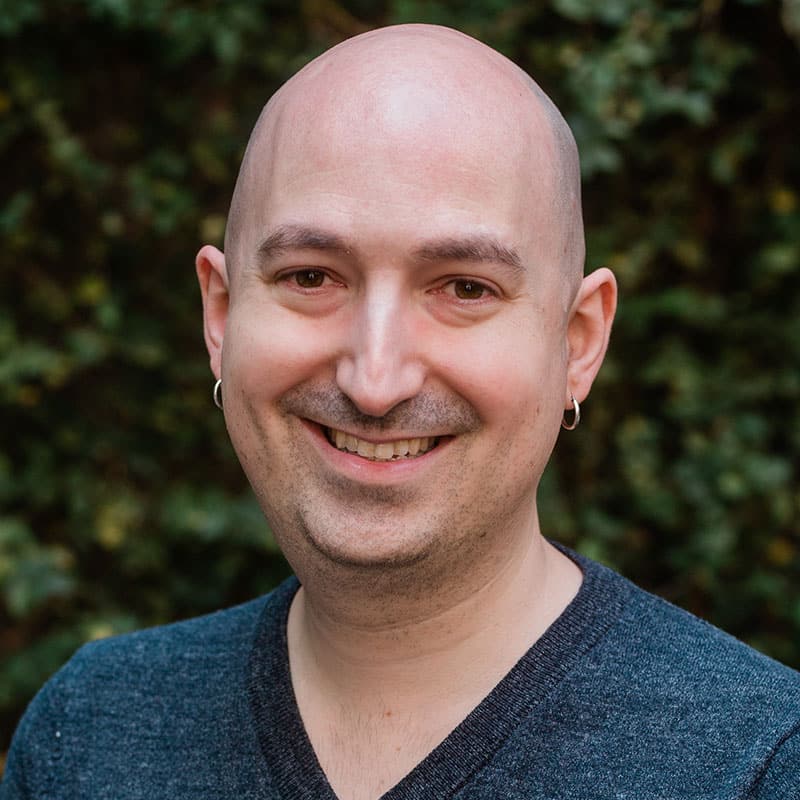 Justin Bantuelle balances the responsibilities of both the Chief Operating Officer and the Web Technology Director after having worked with Health Connective for more than a dozen years. Justin regularly leads the cross-disciplinary teams in building out and updating applications for Fortune 500 companies.
Justin keeps his technical abilities sharp by contributing to an eclectic mix of open-source and personal projects on Github.